How can a scientific exhibition be designed in ways in which it conveys knowledge but also points out new perspectives and scope of action? How can we conceive of a permanent exhibition which allows for required content updates and invites repeated visits?
With Build & Shape UnDesignUnit developed concept and content for one subject area of the planned permanent exhibition of the BIOTOPIA – Naturkundemuseum Bayern in close cooperation with the BIOTOPIA curatorial team. The innovative exhibition and educational formats have been conceived with the aim to highlight the interrelations between natural sciences and art, architecture and design and make them experiencable. Different exhibits and storylines were integrated into one overall narrative which makes the content available either selectively or comprehensively depending on the respective interest and aim of the visitors. The material library conceived by UnDesignUnit in this context offers hands-on experience of biological materials in raw state as well different applications and forms the interface to the visitors' lab Bio Art & Design Studio.
Thereby UnDesignUnit has succeeded in transferring the novel approach of BIOTOPIA – which focuses on the behaviours, activities and processes which human and non-human beings have in common, and thereby seeks to generate understanding of the correlations and interactions between all living organisms and to promote ecological-systemic thinking – in a convincing concept as regards content and space. The exhibition design conveys knowledge to visitors while allowing them to take new perspectives and recognise individual scope for action. The proposed exhibition formats are designed in order to make visitors return frequently and – in view of lasting relevance in spite of changing scientific insights – accommodate adaptations and amendments.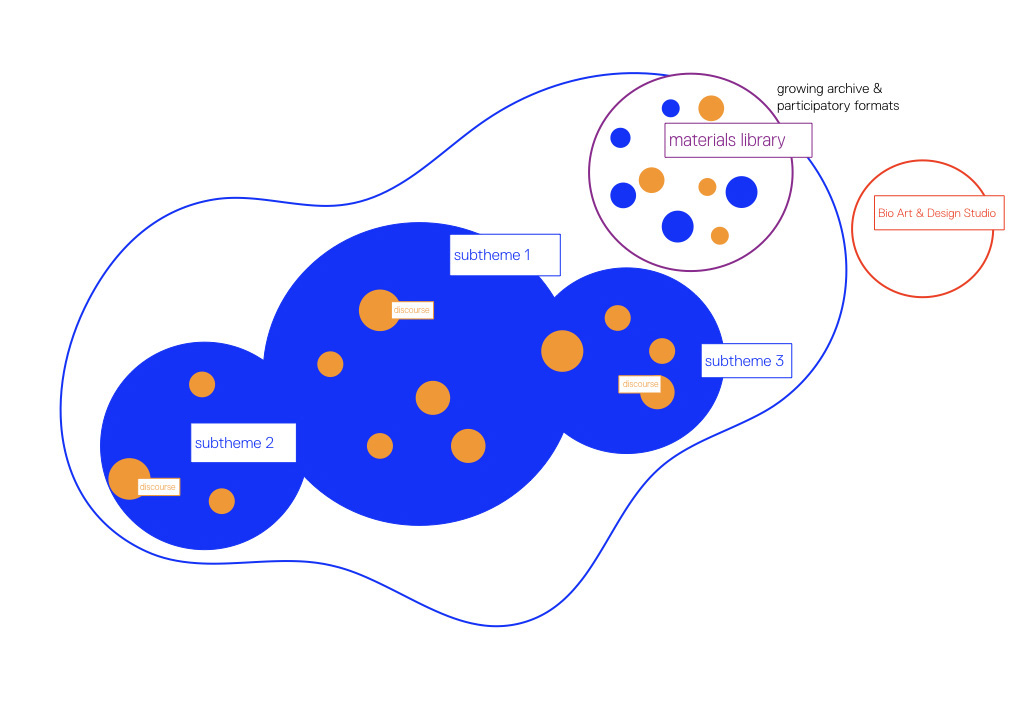 schematic drawing of spatial concept and layout