BIOTOPIA EAT-Festival Display (photo: Verena Hägler)
How different are the perspectives of scientists, designers, artists, entrepreneurs or activists on one and the same subject? Which questions do they ask and to which answers do their respective perspectives and methods lead them? What kind of ideas and hypotheses can a presentation irrespective of categories and disciplines give rise to?
Inspired by the principle of the chamber of curiosities, the BIOTOPIA Display conceived by UnDesignUnit for the BIOTOPIA Hautnah-Fest (2018) und the EAT-Festival (2019) brought together natural stuff, zoological specimen, artefacts, design objects, photographs and videos. With these selected exhibits the display provided a first overview of the multi-faceted activities and events at the festival, raised curiosity and encouraged visitors to distil their own thoughts and questions, which they could then pursue in direct exchange with the contributing festival participants at their respective stands.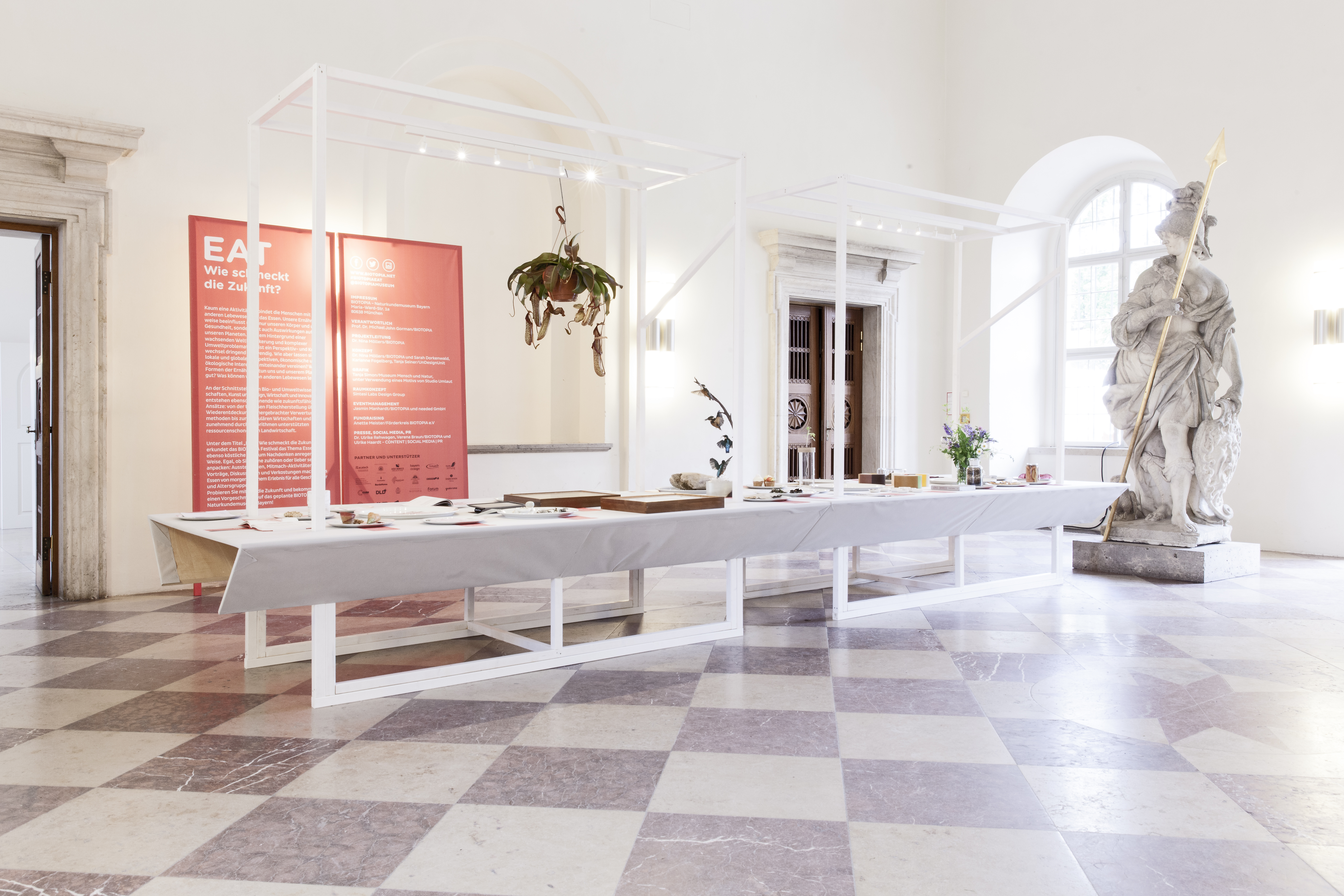 EAT-Festival Display with exhibits by:
Markéta Dolejšová (Food Tarot), Zohar Messeca-Fara und Yair Reshef (Electrolickable Candy), Denisa Kera & Markéta Dolejšová (genetic code for DNA-based menu), Sophia Schullan & Anina Vollbach (Cracking Habits), Next Nature Network (The In Vitro Meat Cookbook), Julia Schwarz (Unseen Edible), Carolien Niebling (The Sausage of the Future), Neulinger Bakery (BIOTOPIA Insect Pretzel), Inbar Zanir (Leder Scoops), SNSB-Zoologische Staatsammlung München (Insect Collection, Shark Flippers), SNSB-Bayerische Staatssammlung für Paläontologie und Geologie (Bavarian Elephant Teeth), MMN/BIOTOPIA (kingfisher taxidermy), SNSB-Botanischer Garten München-Nymphenburg (carnivorous plant), Tanja Krakowski & Lea Brumsack (Culinary Misfits), Johnny Drain (lactofermented vegetable), Cosa Studio (bread mask), Bionicum Nürnberg (rhino dung), Anastasia Meid & Magdalena Skala (objects from eggshell and SCOBY), Martí Guixé (I-cakes), Agrilution (seed sheets), Maurice Maggi (edible wild herbs), Jessica Guy & Emily Whyman (aeroponic tomato plant), Julian Chollet/Gesellschaft für mikroBIOMIK (soil samples), Global Crop Diversity Trust (seedbank Spitzbergen), Ökologisches Bildungszentrum München (bean seeds), Erzbischöfliche Maria-Ward-Realschule (honeycomb)
Photos: Verena Hägler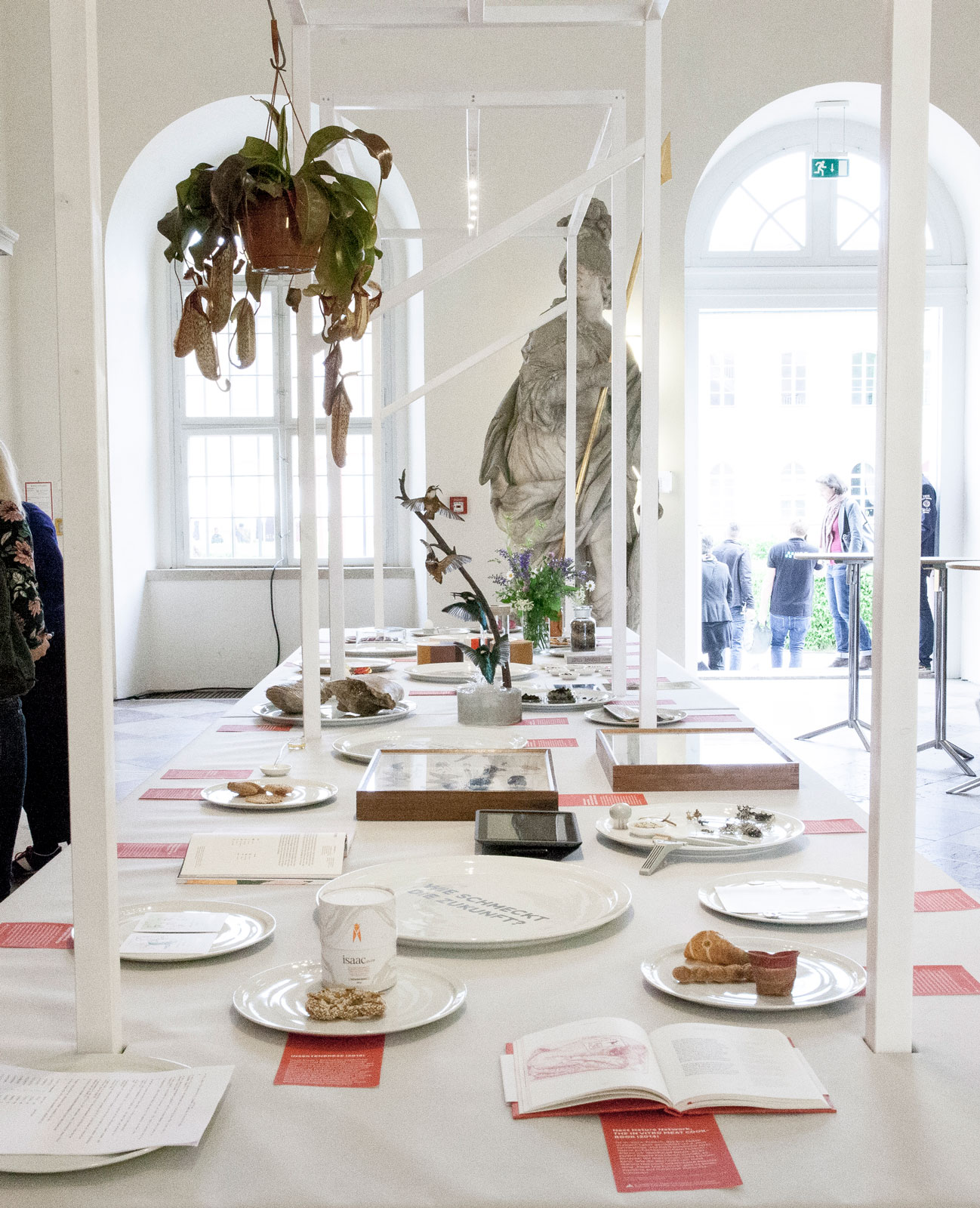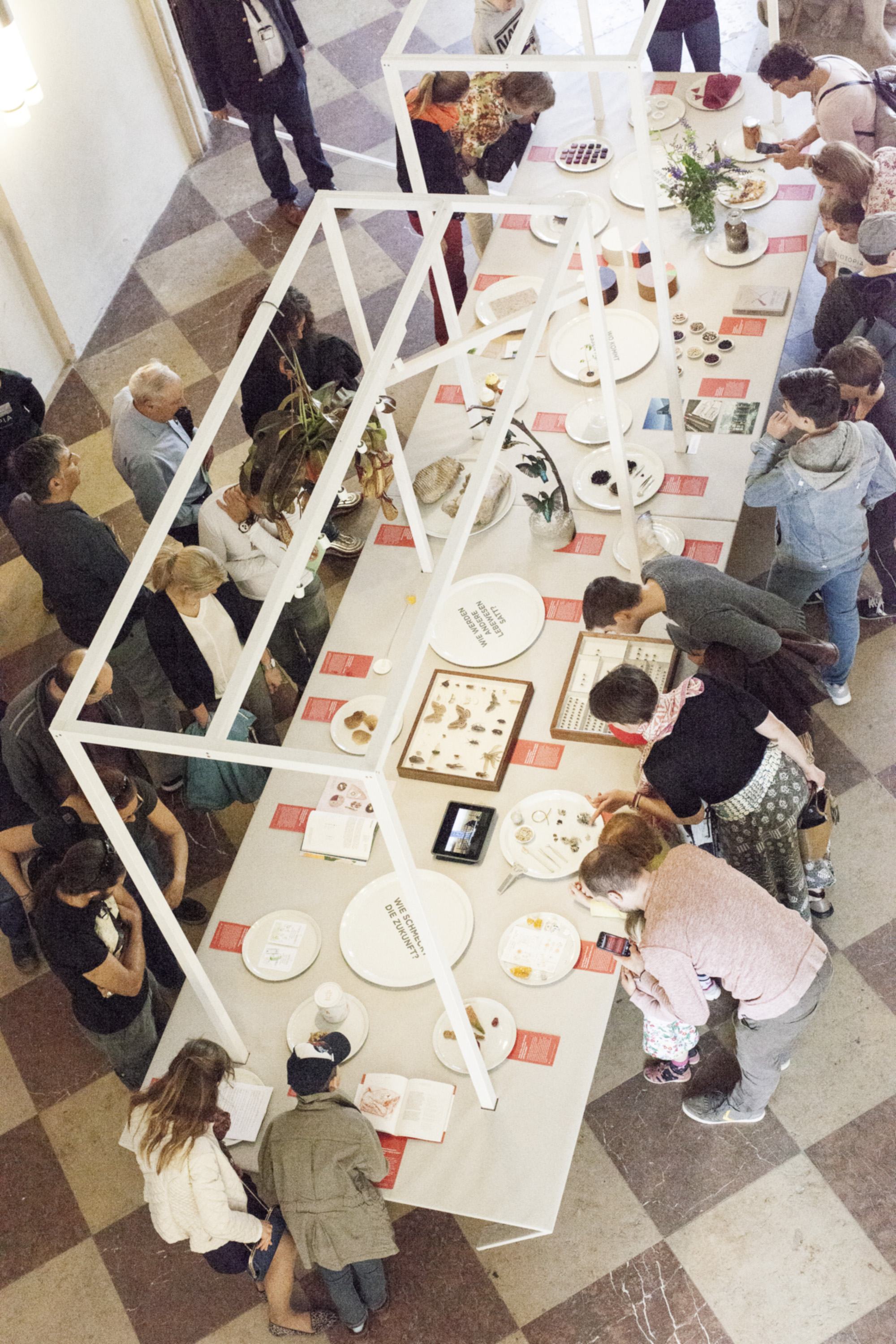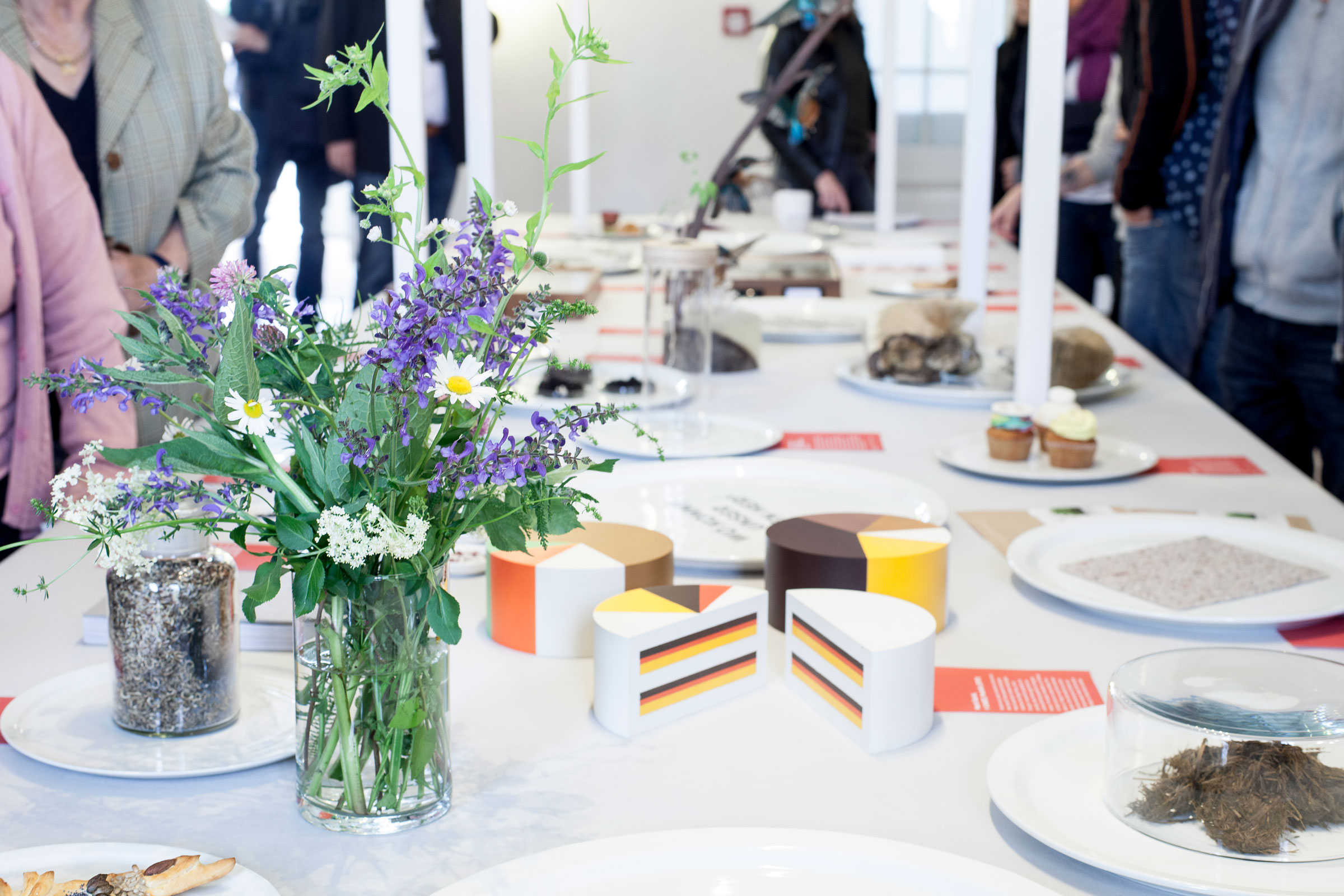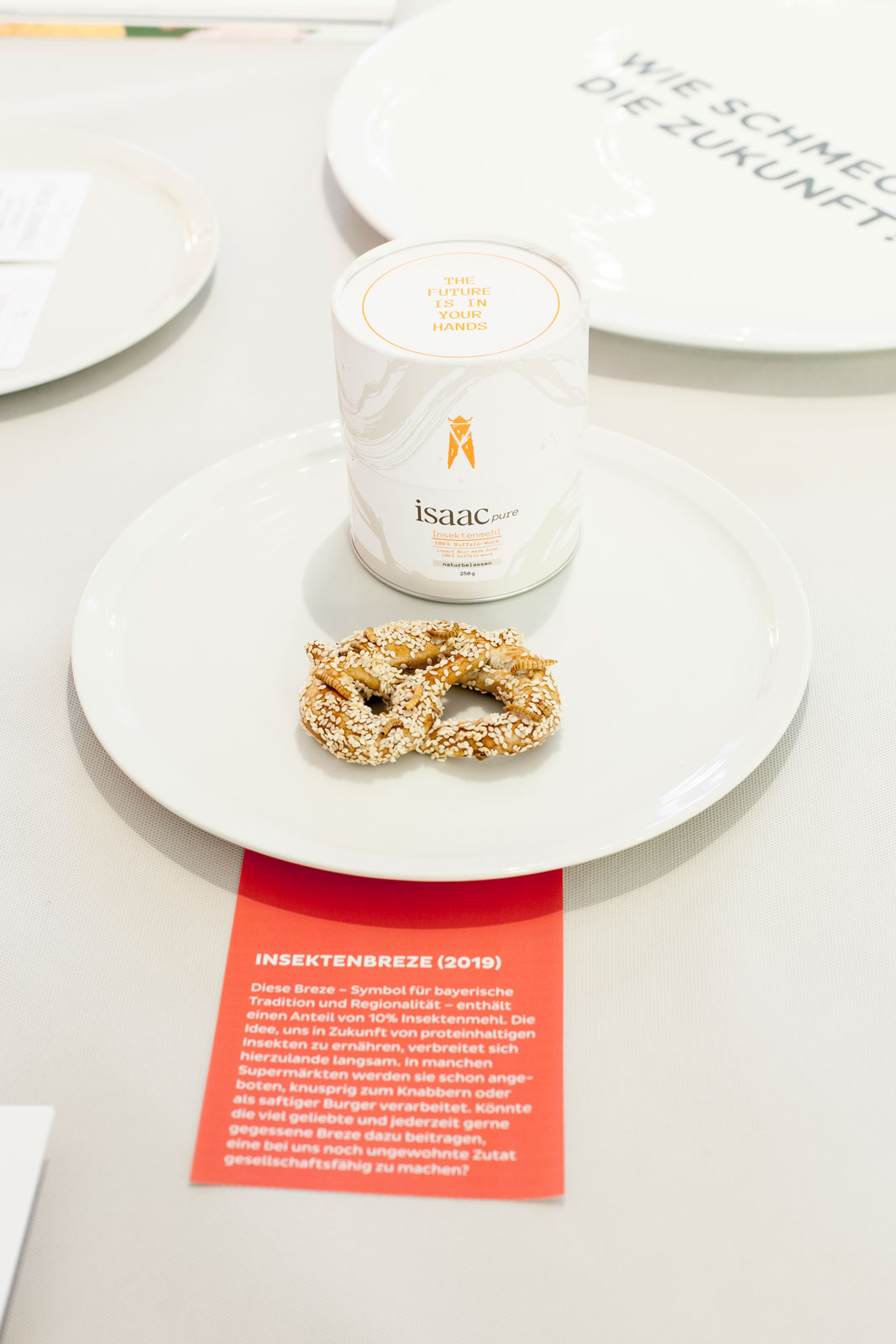 Insect-Pretzel, Idea: UnDesignUnit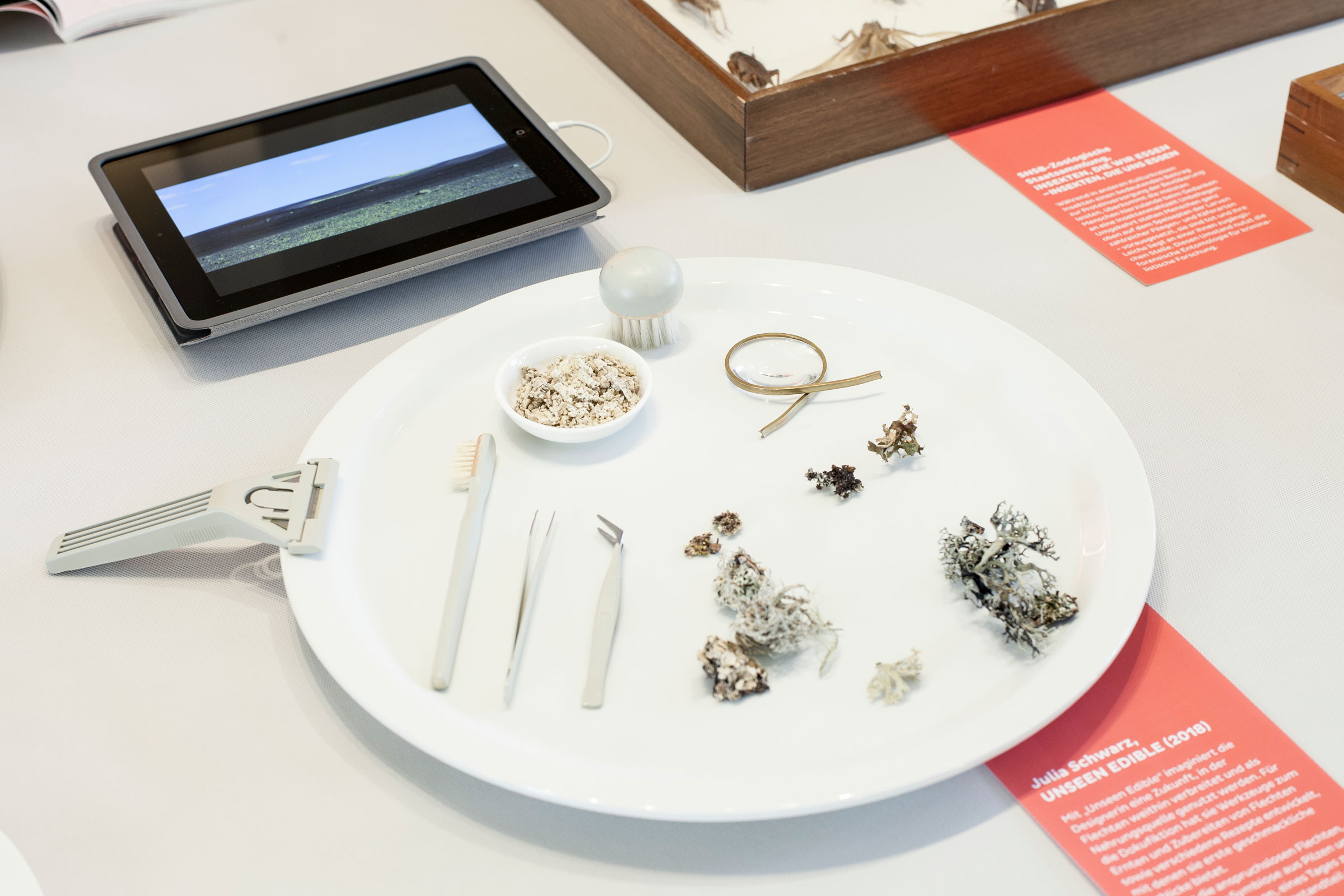 ›Unseen Edible‹ by Julia Schwarz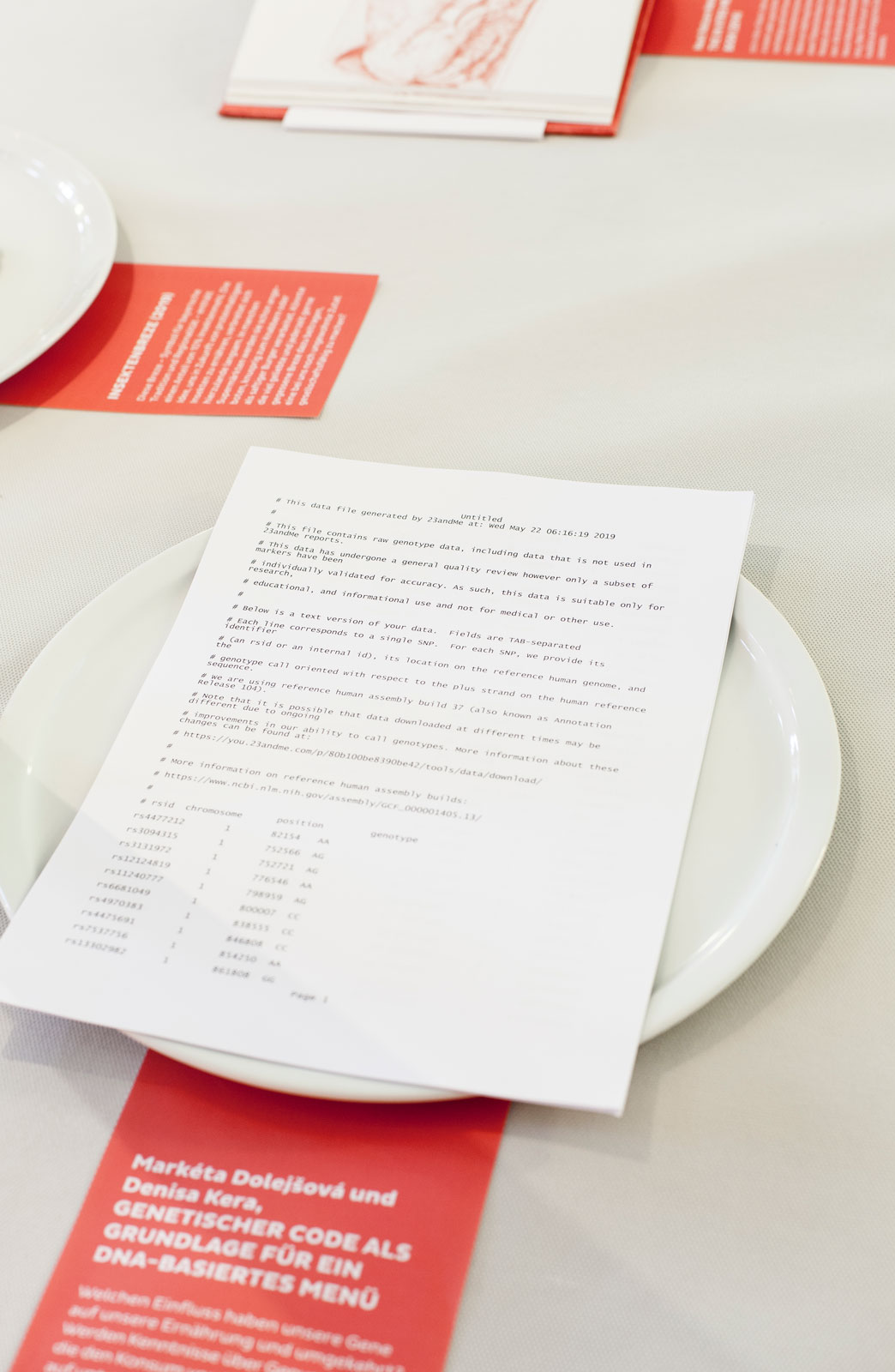 ›Genetic code as basis for a DNA-based menu‹ by Markéta Dolejšová and Denisa Kera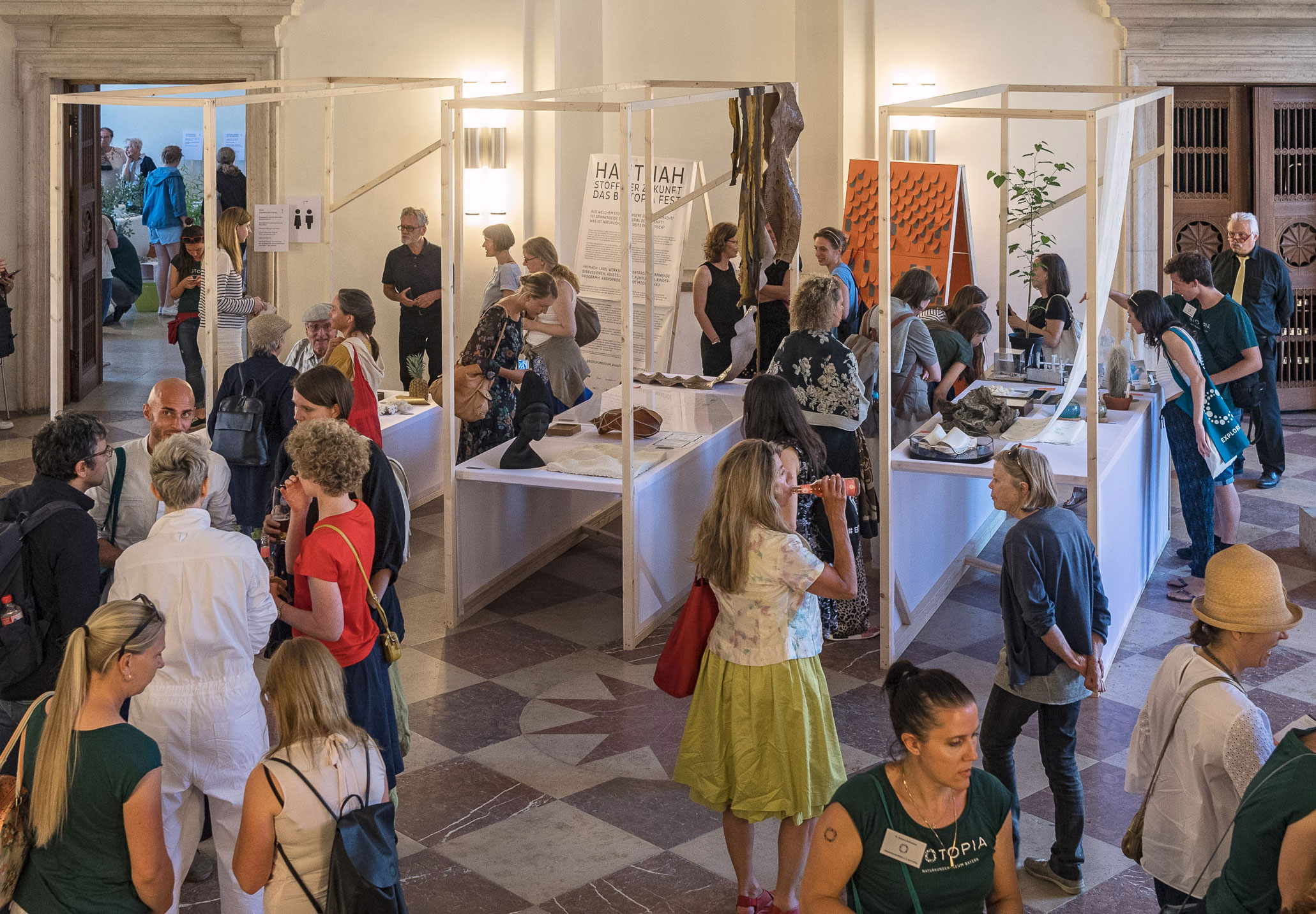 Hautnah-Festival Display (photo: Andreas Heddergott)
Hautnah-Festival Display with exhibits by:
Bionicum Nürnberg (Bionik memory game), Hochschule für Angewandte Wissenschaften München/ Fakultät Design (material samples), Suzanne Lee/Modern Meadow (ZOA leather), Julia Lohmann (Department of Seaweed), Material Stories (Piñatex® ananas leather et.al.), Liz Ciokajlo & Officina Corpuscoli/Maurizio Montalti (MarsBoot), Fiorenzo Omenetto/Tufts University Living Materials Silklab (Lachesis Series: Interactive Surfaces), Veronica Ranner (Polyphonic Futures), Studio Blond & Bieber (Algaemy), SNSB-Zoologische Staatsammlung München (butterfly collection, snake skins), Otilia Vlad (hat from the collection »Frozen«), Bolt Threads (spidersilk tie), Deutsche Meisterschule für Mode (hortus conclusus/secret garden insect), Museum Mensch und Natur (plant fibres), Mogu (mycelium-acoustic panel), Universität Bayreuth (spidersilk nano fibres)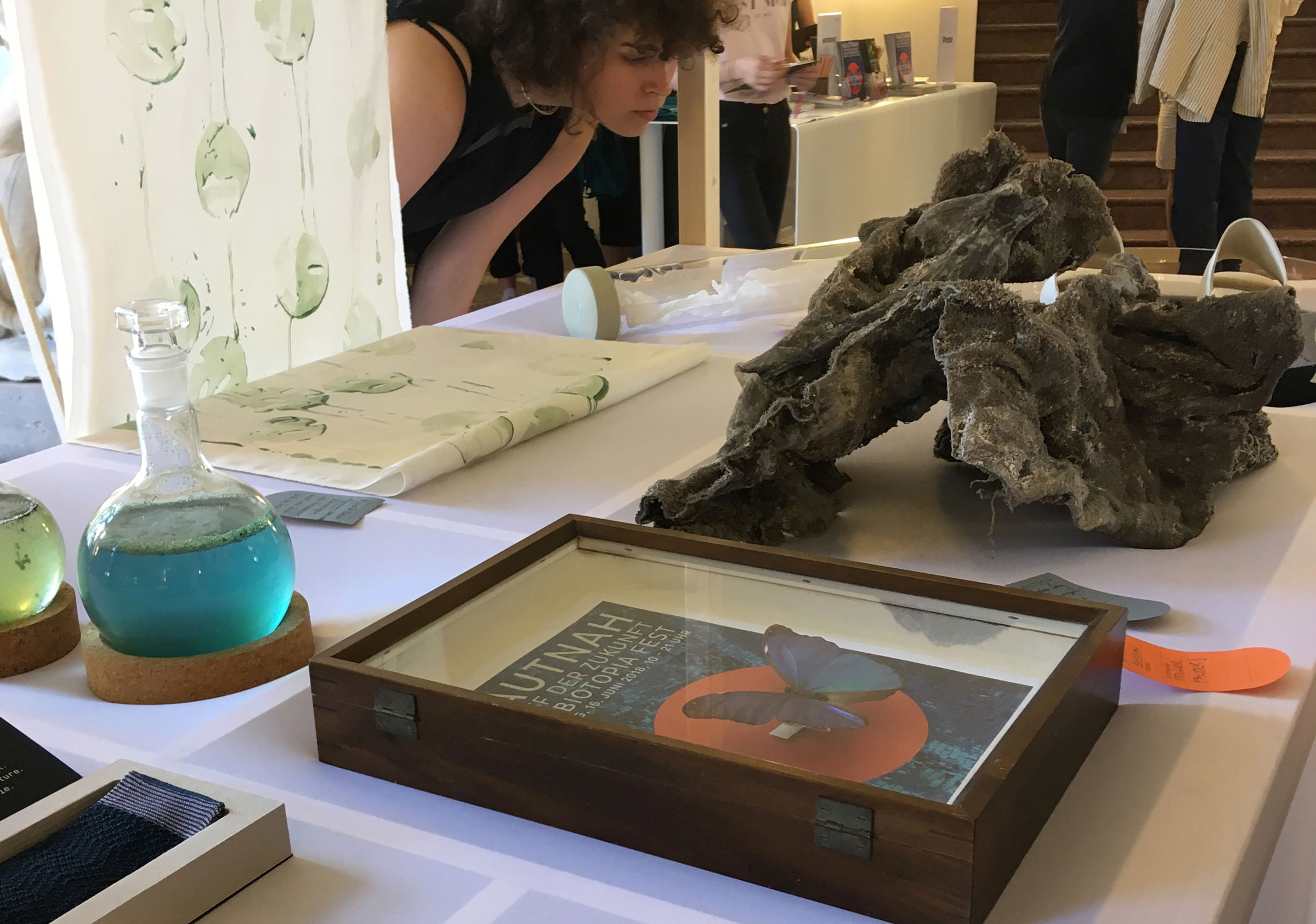 ›Algaemy‹, printed fabric by Blond and Bieber, tanned cow-stomach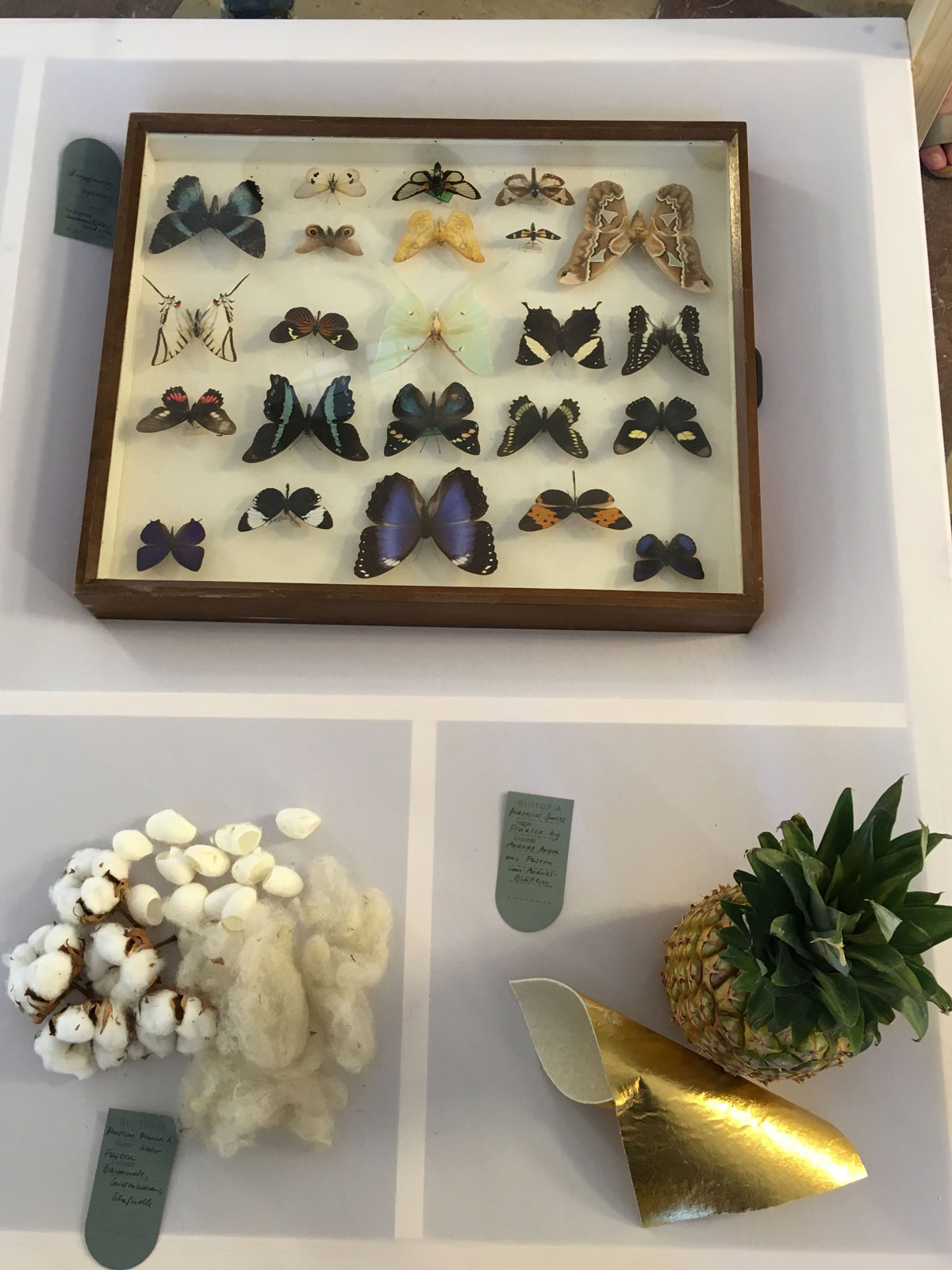 ›Piñatex‹, natural textile made from pineapple leaf fibre, cotton, butterfly collection from ZSM Munich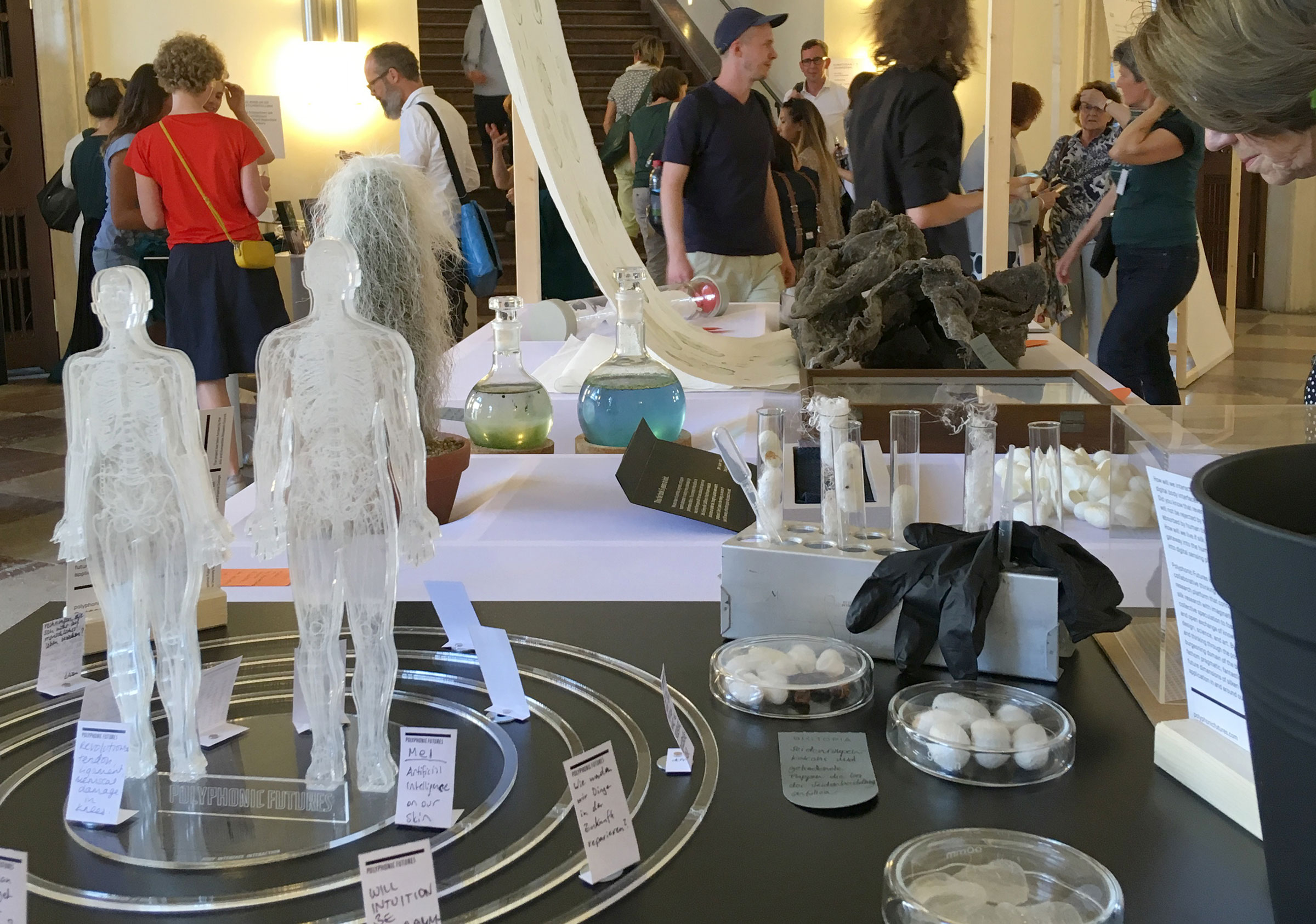 ›Polyphonic Futures‹ by Veronica Ranner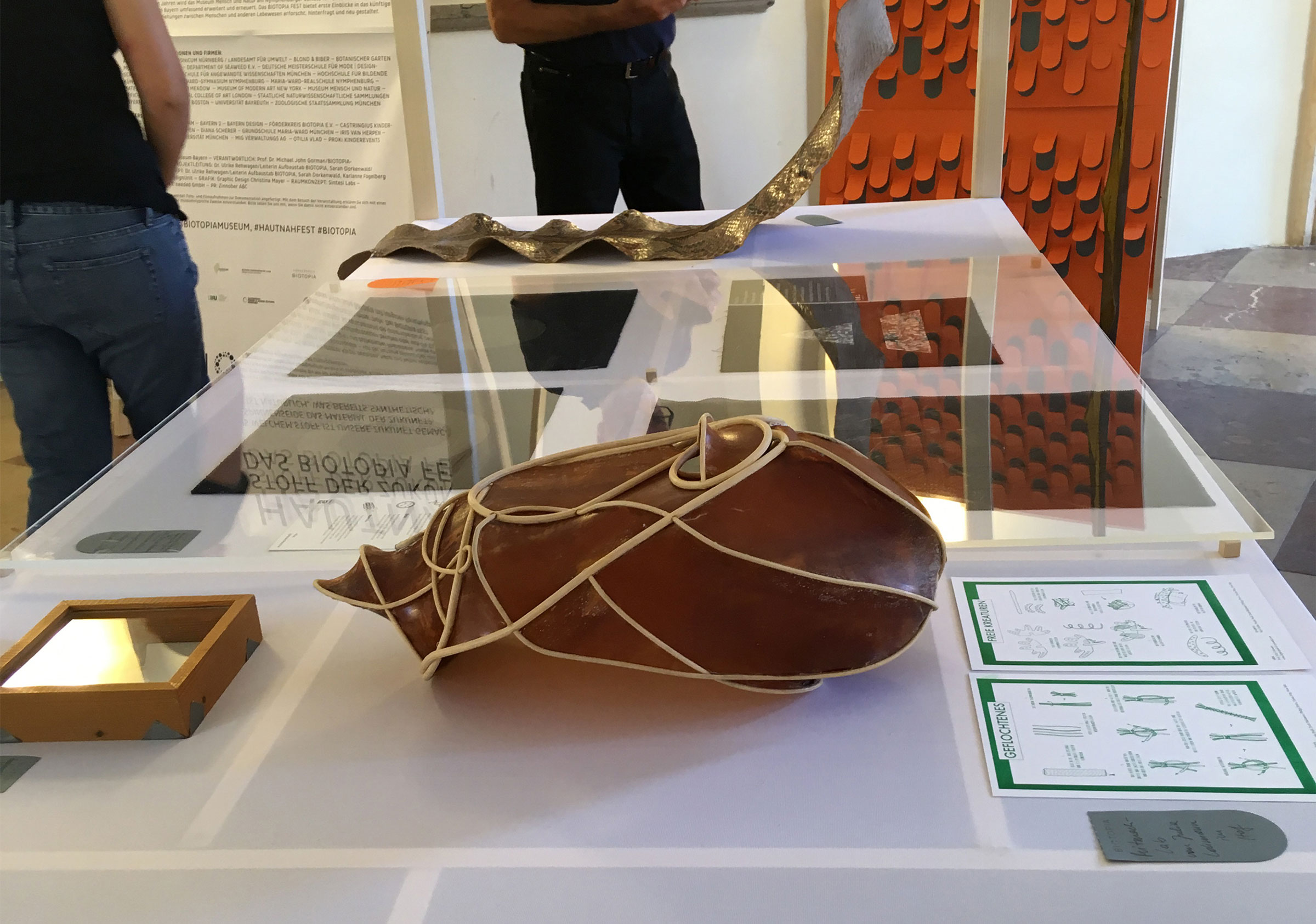 Seaweed mask by the Department of Seaweed/Julia Lohmann